Got the 600 yesterday for super cheap; just made space for the beast today and opened up the packaging. She's definitely in some rough shape in spots. And so, the restoration begins!
It is a 32x8x2 desk with the full patchbay. The dimensions are roughly 3' deep, 5'6" wide, and I think it's about 1' high in the back. With 20 modules removed and not including the PSU it said on the UPS slip that it was 150lbs. Felt like it, too.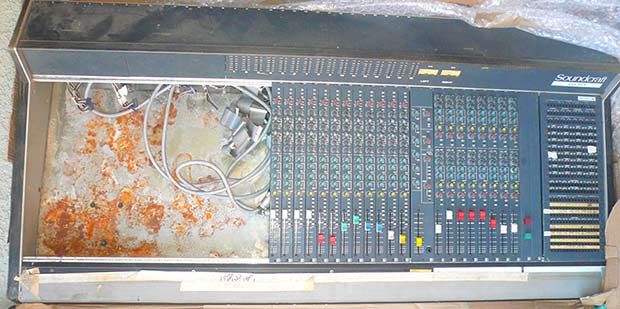 The good news: I haven't fully checked it out, but on first inspection I am pleased to find that it actually works, kinda. Aside from some intermittent buttons, the PSU's 48v light doesn't come on. I didn't try a phantom powered mic on it.

I instantly loved the preamp and eq on a quick vocal test with a dynamic mic. Coolllllllllll!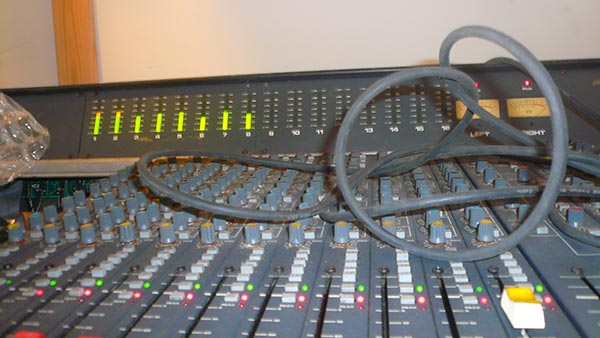 Also, the noise did not seem bad at all (I am coming from Mackie/Behringer hell so my standards are profoundly low). Again, this was just a quick check.
So, the bad news: The 'wood' sides are flaying (and some bad packing resulted in the back corners getting jacked up).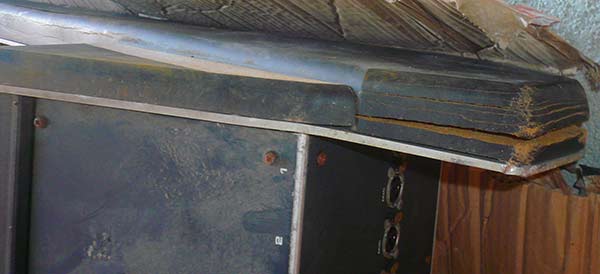 There is rust in the chassis, and on the nuts and washers of the pots. It was an east-coaster now in the dry desert air of Los Angeles. I swear I can smell the salty sea air in the chassis.
However, the PCB's look super clean and no immediate signs of anything funky going on with the 20 channels that I looked at.
The channel strips say "5101" at the top. Printed on the PCB's were "APW 8901" and "SC1491 Iss 9".

Some initial question:
1) What's best way to tell what version of the 600 this is? I didn't see anything printed anywhere on the back. Since version 7's and higher have the trans-amp mod, I was curious.
2) Also, is the one with a patchbay known as the 'producer' version?
3) I haven't opened up the PSU yet but I'll need to look into this 48v issue and I'm assuming a recap will be in order. Any suggestions on upgrading those (higher value, higher voltage)?
Since I am someone who never, ever sells any music gear, I am cool with doing mods that make some people cringe, but then, how many of them still have the Korg Poly-800 they bought in 1986! (I'm going to do the VCF mod on that, soon ;) )
My plans for the board so far are these (open to recommendations!):
1) Put all modules in and do a cursory test, mark each channel's issues, order parts
2) Clean everything (chassis, knobs, pots, buttons)
3) De-rust and repair the chassis, fix the wood sides, put some funky faux leopard print leather on the arm rest
4) Repair any faulty switches, etc, fix/upgrade components of PSU
5) Grounding mod.
6) Re-assemble and fully test the board to get some benchmarks, etc.
7) Assemble the edac connectors/cabling (realllly looking forward to that).
8) Add 1/4" inputs to the back of the board for 16, maybe 32 channels (might do this earlier)
9) Trans-amp mod on 8-16 channels.
10) Recap channels as I go
11) Maybe upgrade the IC's and transistors on 2-4 channels to hear the difference
12) Add input transformers to 2 or 4 channels.
13) Dial in the EQ on two channels for Kick and Bass (might instrument-target some other channels one day, it's a crazy idea of mine since i always record the same instruments)
14) If possible, use those two blank panels to install LED meters for each of the 32 channels. Thoughts on this, anyone?!
15) Hopefully, record some music with it :-)
Anyway, thought I would document my trials and tribulations here for any other souls who venture into a project of this nature armed with soldering gun and ready to pop a few caps in a Soundcraft 600.
The connectors: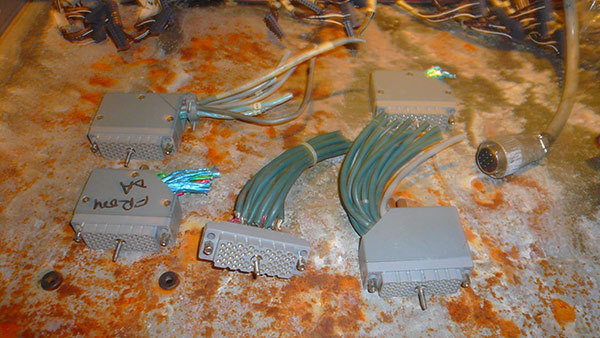 Curious buttons - this was in a production truck before and there is a 6-conductor cable coming out of the board, I assume for these buttons: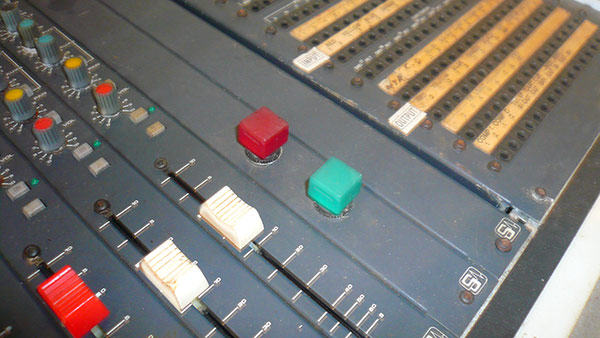 Back panel: